Microsoft provides a Bing Rewards Program where, just by searching on Bing.com, you earn rewards which then may be donated to the school. With every 30,000 rewards, St. Louise School will earn a new Microsoft Surface. Sixty participants donating regularly can earn a surface a month for the school.
It is easy to do and there is nothing to install. Go to
http://www.bing.com/explore/rewards-b
to get started. You will see your points tabulated in the upper right hand side of your screen on the Bing.com page similar to that shown below. By clicking on the award ribbon, you can see how many rewards you can still earn for the day and donate credits (by clicking 'Redeem') to the school when you have acquired more than 50 rewards. To find St. Louise School in the list of schools, use our zip code 98007 and you will see Saint Louise School near the bottom of the list.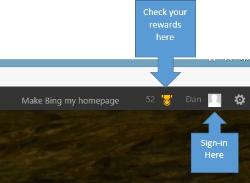 To acquire Bing rewards, you will need a Microsoft account. That can be a msn.com, hotmail.com, live.com, or outlook.com account. One can be easily created by going to http://outlook.com and click on where it says "Sign up now".
If you have any questions please contact Dan Kirby at DanK@stlouiseschool.org .